On October 18th, 2017, McCormick Center held 3,000 attendees as the first annaul Cyber Security Chicago conference. It offered invaluable insights around hot topics in the industry including IoT Security, DevSecOps and the Equifax Breach
. On the Keynote Stage, Anders Norremo, CEO of ThirdPartyTrust, led a keynote on
Re-Thinking How to Build Trust in the Vendor Eco-System alongside
Fawaz Rasheed
, CISO
of Trustmark Companies, and
Matt Dechant
, CISO of Tempus.
Both have years of experience building out of vendor risk management programs within their respective companies. From an employee benefits company to a cancer research company, both echoed concerns of third party vector attacks and how to scale vendor risk management processes.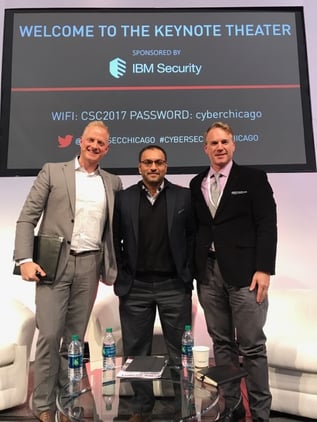 Left to Right: Norremo, Rasheed, and Dechant
Many of the challenges discussed in this keynote are trends noted in this year's
Ponemon Institute study
that was released earlier this month, including:
Today's programs are insufficient to manage third-party risks

The effectiveness of third party governance programs remains low

Accountability and board level involvement has increased only slightly

Companies lack complete visibility into third-party relationship
To commence the discussion, Norremo asked
the panelists,
What is at the forefront when it comes to vendor risk?
Rasheed kicked it off by answering with two statements that continue to surface as a challenge within assessing vendor risk:

"The biggest problem with vendor management, is it's a process that has to happen with multiple stakeh

olders, b

ut many organizations do not have that.

Once you have that level of buy-in from the executive board, the other challenge is with vendors -- what is their on-going security posture an

d what are the tools I can use to gauge a vendor's on-going and current status of maturity?"

Gone are the days of a simple one dimensional attestation; you need to go to the next level of scrutiny by diving deeper."
Dechant adds, "Finding the right way to find good measurements [to assess vendors] is critical. The business always carries the risk, so you have to trust and verify your vendors regularly."
That level of trust is only represented by vendors showing what their level of maturity is in terms of security controls, their security program, etc.
What is an example of a vendor that poses a threat in your organization that people may not think of?
Dechant offers an example involving an unassuming refridgeration vendor:
"We have $2 million worth of tissue samples stored in our lab fridge -- these are samples from people who have died from cancer. If we saw a risk with refrigeration unit...these are samples we'll never get again. Do I have the right vendor doing temperature control for that refrigerator?"


What have been your biggest challenges in building a vendor risk management program?
Both panelists agree, a comprehensive approach is needed. "Activities can be outsourced, but responsibility cannot", says Rasheed, "therefore
it is absolutely essential there are multiple stakeholders invested in the process.
The fact that the business always carries the risk, so it is crucial to verify vendors regularly is restated."
Rasheed also notes that "when you start shining a flashlight in that dark room of your vendor ecosystem, you start seeing more and more methods that they can take hold of to attack your network (not protectively or deliberately) but through their weak controls. Vendors may say 'we have controls in place', but there's that notion A fool with a tool is still a fool. You can put controls in place, but if you don't have a 'wrapper' -- an ecosystem of processes and plans and deliverable's that you're going to execute upon those controls and that you can demonstrate -- what's the point? Gone are the days of simple one dimensional attestation, we need to go to next level of scrutiny."
Like many other companies, Rasheed adds that when using spreadsheets before, he found he was putting more bodies at the problem. "Instead of having 2-3 people chasing spreadsheets, we lowered our footprint of resources and shifted to a solution that's more automated; one of the reasons why ThirdPartyTrust was the perfect fit for us."


What has been the single biggest improvement you've made recently that had a big impact on your vendor risk program?
"Automation is key", says Dechant
. "This isn't a sheriff in town type role, this is about understanding where the business is going, what it's doing and how it's profitable."
Rasheed comments stating, "Establishing a process where business units work together to vet a vendor before bringing them on-board has been key, as well as having the right solution in place that saves time." Rasheed stresses.
What are some ways we can start collaborating and doing this more effectively?
"We're losing the greater war here; we'r
e behind. The attacks are more sophisticated, so it's a necessity for the CISO community to be constantly communicating about the threat intel they see." Dechant states.
Rasheed adds, "In the CISO community we're alre
ady talking about ve
ndors -- who the good ones are
, we're talking about their level of security management, their secu
rity infrastructure and how they're going to ke
ep our data safe."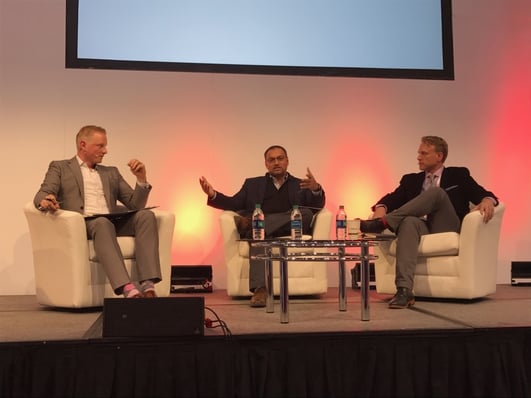 Left to Right: Norremo, Rasheed, and Dechant